IWAS World Games
Die International Wheelchair and Amputee Sports World Games – kurz IWAS World Games – sind die größte internationale Sportveranstaltung im Behindertensport, die von der IWAS Federation ausgerichtet werden. Die IWAS World Games und die Paralympischen Spiele besitzen dieselbe sporthistorische Wurzel.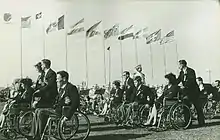 Die Idee

Die IWAS World Games stehen unter dem Motto Einigkeit, Freundschaft und sportliche Fairness. Die in vorolympischen Jahren ausgetragenen Wettkämpfe dienen heute gleichzeitig der Qualifikation für die Paralympics und – im Land der kommenden Olympischen bzw. Paralympischen Spiele ausgetragen – der Sensibilisierung der Menschen für die paralympische Bewegung und die Belange des Behindertensports.
Geschichte

Der Vorläufer der IWAS World Games – wie auch der der Paralympischen Spiele – fand von 1948 bis 1995 unter dem Namen International Stoke Mandeville Games statt, ab 1997 unter dem Namen World Wheelchair Games und ab 2003 als World Wheelchair and Amputee Games. Früher jährlich ausgetragen, finden sie seit 2008 in zweijährlichem Rhythmus statt.

Als Begründer gilt der deutsch-britische Neurologe Sir Ludwig Guttmann, der parallel zu den Olympischen Sommerspielen 1948 in London Sportwettbewerbe für Kriegsversehrte in der von ihm geleiteten Rehabilitationsklinik in Stoke Mandeville, Großbritannien veranstaltete. 1952 nahmen auch Behindertensportler aus den Niederlanden teil – der erste Schritt zum internationalen Sportereignis war vollzogen.

Die 9. Stoke Mandeville Games wurden 1960 erstmals am gleichen Ort der in diesem Jahr in Rom ausgetragenen Olympischen Sommerspiele abgehalten. Sie werden im Nachhinein als die ersten Paralympischen Spiele gewertet.

Während über die Jahre in die Paralympischen Spiele zunehmend mehr Behindertengruppen einbezogen wurden, blieben die Stoke Mandeville Games auch weiterhin eine Sportveranstaltung für Rollstuhlfahrer. Austragungsort der von der International Stoke Mandeville Wheelchair Sports Federation (ISMWSF) organisierten Wettkämpfe für viele Jahre blieb Stoke Mandeville.

2003 wurden erstmals die Stoke Mandeville Games zusammen mit Wettbewerben der International Sports Organization for the Disabled (ISO) ausgetragen. Veranstaltungsort war Christchurch in Neuseeland. 2004 schlossen sich die ISMWSF und die ISO zur International Wheelchair and Amputee Sports Federation (IWAS) zusammen. Die ersten gemeinsamen Spiele für Körperbehinderte verschiedenster Art fanden 2005 unter dem Namen IWAS World Wheelchair and Amputee Sports World Game in Rio de Janeiro statt.
Sportarten

1948 zunächst auf das Bogenschießen für Querschnittgelähmte beschränkt, erweiterte sich die Palette der Sportarten über die Jahre auf Leichtathletik, Gewichtheben, Schießen, Schwimmen, Tischtennis, Rollstuhlrennen, Rollstuhlrugby und Rollstuhlvolleyball oder Amputiertenradrennen und Amputiertenfußball sowie um Wettkampfklassen für Sehbehinderte. Die Wettkämpfe werden in verschiedenen Handicap-Klassen gemäß internationalen Reglements ausgetragen.
Spiele, Jahre, Austragungsorte

Jahr
Name der Veranstaltung
Gastgeber
1948
Stoke Mandeville Games for the Paralysed
Stoke Mandeville
1949
Stoke Mandeville Games
Stoke Mandeville
1950
Stoke Mandeville Games
Stoke Mandeville
1951
Stoke Mandeville Games
Stoke Mandeville
1952
1. Internationale Stoke Mandeville Games
Stoke Mandeville
1953
2. Internationale Stoke Mandeville Games
Stoke Mandeville
1954
3. Internationale Stoke Mandeville Games
Stoke Mandeville
1955
4. Internationale Stoke Mandeville Games
Stoke Mandeville
1956
5. Internationale Stoke Mandeville Games
Stoke Mandeville
1957
6. Internationale Stoke Mandeville Games
Stoke Mandeville
1958
7. Internationale Stoke Mandeville Games
Stoke Mandeville
1959
8. Internationale Stoke Mandeville Games
Stoke Mandeville
1960
9. Internationale Stoke Mandeville Games.
Heute als 1. Sommer-Paralympics 1960 bezeichnet.
Rom
1961
10. Internationale Stoke Mandeville Games
1962
11. Internationale Stoke Mandeville Games
1963
12. Internationale Stoke Mandeville Games
1964
13. Internationale Stoke Mandeville Games.
Heute als 2. Sommer-Paralympics 1964 bezeichnet.
Tokio
1965
14. Internationale Stoke Mandeville Games
1966
15. Internationale Stoke Mandeville Games
1967
16. Internationale Stoke Mandeville Games
1968
17. Internationale Stoke Mandeville Games.
Heute als 3. Sommer-Paralympics 1968 bezeichnet.
Tel Aviv
1969
18. Internationale Stoke Mandeville Games
1970
19. Internationale Stoke Mandeville Games
1971
20. Internationale Stoke Mandeville Games
1972
21. Internationale Stoke Mandeville Games.
Heute als 4. Sommer-Paralympics 1972 bezeichnet.
Heidelberg
1973
22. Internationale Stoke Mandeville Games
1974
23. Internationale Stoke Mandeville Games
1975
24. Internationale Stoke Mandeville Games
1976
5. Sommer-Paralympics 1976
Toronto
1977
25. Internationale Stoke Mandeville Games
1978
26. Internationale Stoke Mandeville Games
1979
27. Internationale Stoke Mandeville Games
1980
6. Sommer-Paralympics 1980
Arnheim
1981
28. Internationale Stoke Mandeville Games
1982
29. Internationale Stoke Mandeville Games
1983
30. Internationale Stoke Mandeville Games
1984
7. Sommer-Paralympics 1984

Hempstead, New York
Stoke Mandeville
1985
31. Internationale Stoke Mandeville Games
1986
32. Internationale Stoke Mandeville Games
1987
33. Internationale Stoke Mandeville Games
1988
8. Sommer-Paralympics 1988
Seoul
1989
34. Internationale Stoke Mandeville Games
1990
35. Internationale Stoke Mandeville Games
1991
36. Internationale Stoke Mandeville Games
1992
9. Sommer-Paralympics 1992
Barcelona
1993
37. Internationale Stoke Mandeville Games
1994
38. Internationale Stoke Mandeville Games
1995
39. Internationale Stoke Mandeville Games
1996
10. Sommer-Paralympics 1996
Atlanta

Ab 1997 wurde die Veranstaltung der IWAS in World Wheelchair Games umbenannt.

Jahr
Datum
Name der Veranstaltung
Gastgeber
1997
World Wheelchair Games
1998
World Wheelchair Games
1999
World Wheelchair Games
Christchurch
2000
11. Sommer-Paralympics 2000
Sydney
2001
World Wheelchair Games
2002
World Wheelchair Games
2003
World Wheelchair Games
Christchurch
2004
12. Sommer-Paralympics 2004
Athen
2005
World Wheelchair and Amputee Games
Rio de Janeiro
2006
World Wheelchair and Amputee Games
Bangalore
2007

[1]

9.–19. September
World Wheelchair and Amputee Games
Taipeh
2008
6.–17. September
13. Sommer-Paralympics 2008
Peking
2009

[2]

24. November – 1. Dezember
IWAS World Games
Bangalore

[3]

2011

[4]

1.–6. Dezember
IWAS World Games
Schardscha
2012
29. August – 9. September
14. Sommer-Paralympics 2012
London
2013

[5]

14.–22. September
IWAS World Games
Stadskanaal
2015

[6]

26. September – 3. Oktober
IWAS World Games
Sotschi
2016
7.–18. September
15. Sommer-Paralympics 2016
Rio de Janeiro
2017

[7]

30. November – 6. Dezember
IWAS World Games
Vila Real de Santo António
2018
–
IWAS World Games
nicht vergeben
2019
10.–17. Februar
IWAS World Games (Ergebnisse)
Schardscha
2020
verschoben auf 2021
16. Sommer-Paralympics 2020
Tokio
2021
abgesagt

[8]

IWAS World Games
Vila Real de Santo António
IWAS World Junior Games / IWAS U23 World Games / IWAS Youth World Games

Seit einigen Jahren werden durch die IWAS Federation zusätzlich auch Juniorenwettkämpfe ausgetragen, die bis 2015 IWAS World Junior Games hießen. Seit 2016 heißen sie IWAS Under 23 World Games und werden nur noch in Jahren mit geraden Zahlen ausgetragen.[9]

Nr.
Jahr
Datum
Ort
Austragungsstätte
Ergebnisse
1.
2005
6./7. Juli
Stoke Mandeville
Stadion
Result list
2.
2006
14.–16. Juli
Dublin
Stadion
Result list
3.
2007
4.–6. April
Ekurhuleni
Germiston Sports Precinct
Result list
4.
2008
18.–27. Juli
Piscataway
Results
5.
2009
16.–19. Juli
Nottwil
SPZ Nottwil
Results and World Records, Medal Table
6.
2010
19.–26. August
Olomouc
Athletics Results, Swimming Results, Medal Standings
7.
2011
14.–21. April
Dubai
Result List (Leichtathletik), Powerlifting Results, Medal Overview
8.
2012
19.–21. Juli
Olomouc
Results, World Records (Leichtathletik)
9.
2013
6.–14. August
Mayaguez
Central American Stadium
Result list (Leichtathletik), Schwimmen, Bogenschießen, Paratriathlon, Records set
10.
2014
3.–7. August
Stoke Mandeville
Results
11.
2015
2. – 8. Juli
Stadskanaal
Sportpark Stadskanaal
Ergebnisliste (Leichtathletik), Swimming Day 1, Swimming Day 2
12.
2016
29. Juni – 3. Juli
Prag
Results (Leichtathletik), Schwimmen:Tag 1, Session 1, Tag 1, Session 2, Tag 2, Session 1, Tag 2, Session 2, Tischtennis: Session 1, Session 2, Finale, Rollstuhlfechten: Session 1, Session 2
13.
2018
2. – 5. Juli
Athlone
Results book (pdf 2,1 MB)
Weblinks
Einzelnachweise